I am thrilled to be part of Treetopia's 2016 Design Council.  Our theme is "Christmas in all shapes and sizes."  Join me and a few other bloggers as we share our unique family traditions that inspired our Christmas tree theme.     My tradition is our "Love Tree," which is a Christmas Tree inspired by love.
My mother-in-law started our tradition by giving each of her grandchildren a Christmas ornament each year.  She always gives out the ornaments on Thanksgiving day.  After Mr. DD and I were married, we soon started our tradition of what I call the "Love Tree."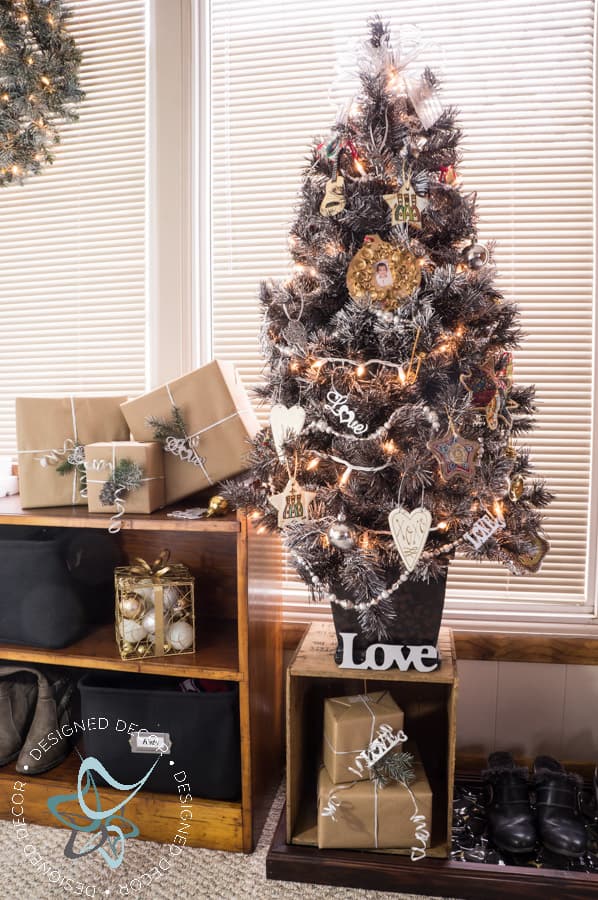 We always put our Christmas tree up the day after Thanksgiving and we would have each of the boys place their own ornaments on the tree.  The ornaments that the boys would hang on the tree consisted of all the ornaments that their grandmother had given them over the years and their very own handmade ornaments.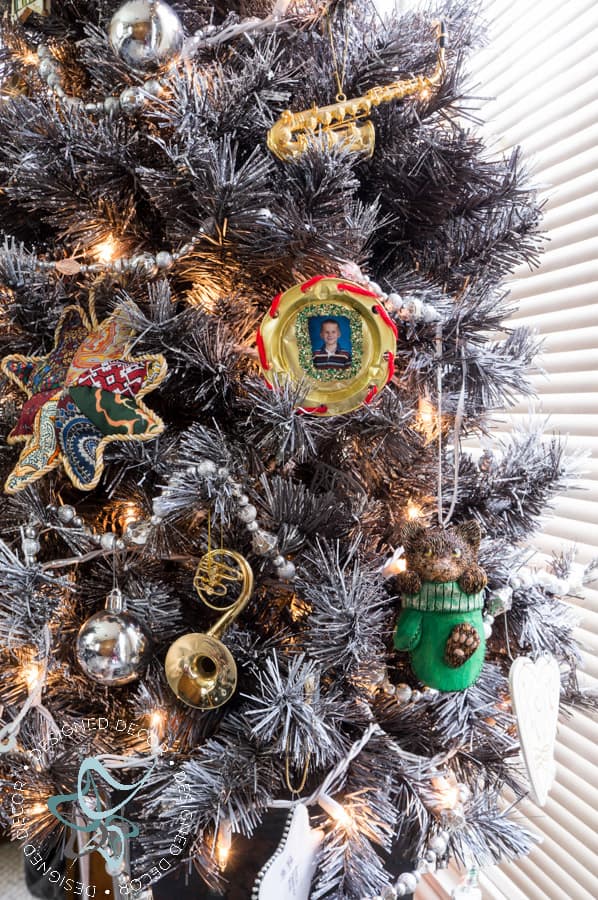 I would place the remainder of the ornaments on the tree and these were all the sentimental ornaments or other ornaments that were made by family and friends.  This is why I began to call it our "Love Tree," because it was created by all those that we love.  A few of my favorites are shown in the picture above.  The hand-sewed star ornament was made by my sister-in-law using their father's old ties. The handmade tin ashtray portrait ornament was made by the youngest and each one of the boys has made one just like this from their elementary school days.  The hand-carved cat in a mitten ornament was carved by my father.  The musical instruments are the ornaments from Grandma and it represents the instruments that our children have played over the years.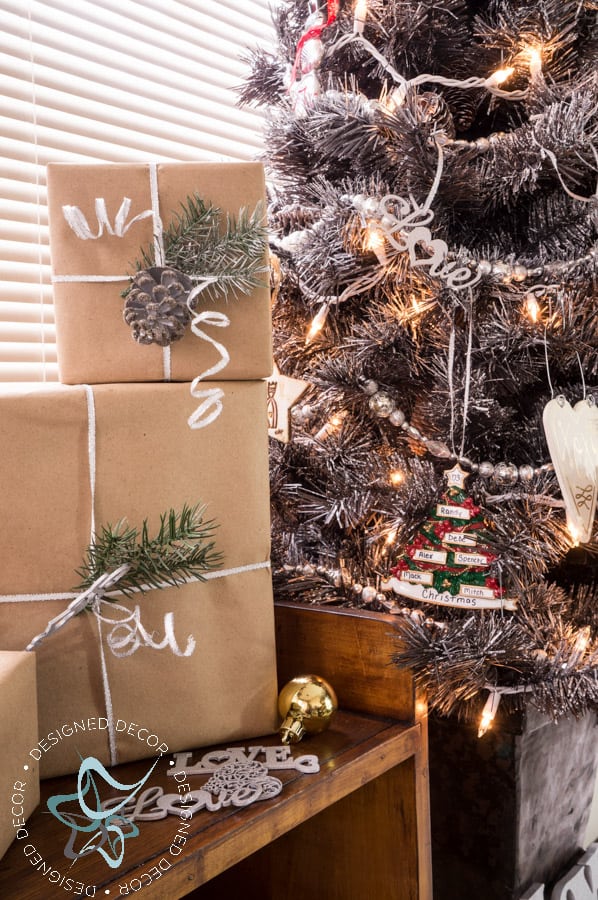 This Christmas tree ornament was one that I purchased after Mr. DD and I were married and it represents our first Christmas together as a blended family.  2 years ago, I stopped putting up the tree of love, the baby is a sophomore in college and all 4 boys are never home at Thanksgiving to place their ornaments on the tree.  This year, I decided I would have a small representation of the love tree since I received this 4-foot Chocolate Truffle potted tree from Treetopia.  I did do a little DIY magic on the tree to make it a flocked Christmas tree.  I will be posting on how I did an easy, mess-free flocked Christmas tree later this week.  I added the wooden love ornaments to the tree after I spray painted them with silver metallic spray paint.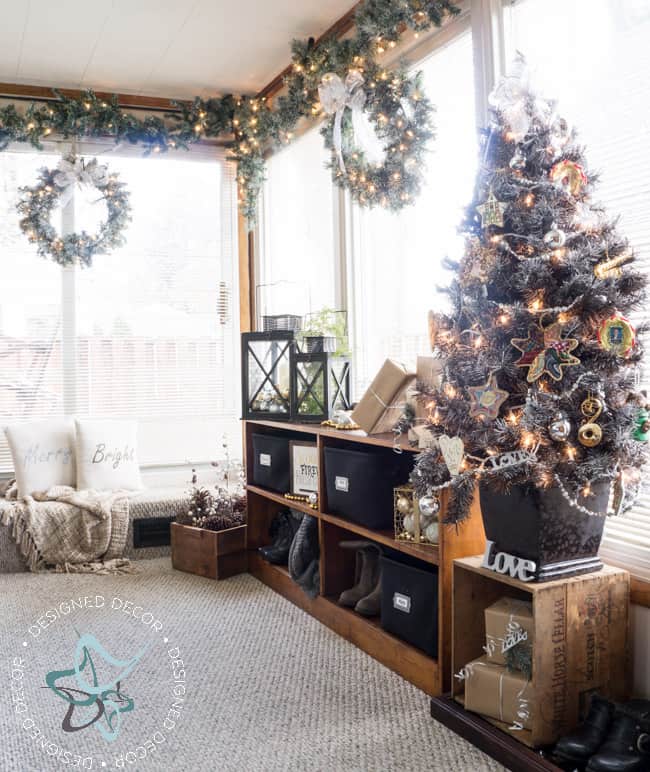 Treetopia.com is a great source of Christmas trees in all shapes, colors, and sizes.  The lighted wreaths and garland are also from Treetopia, minus the flocking.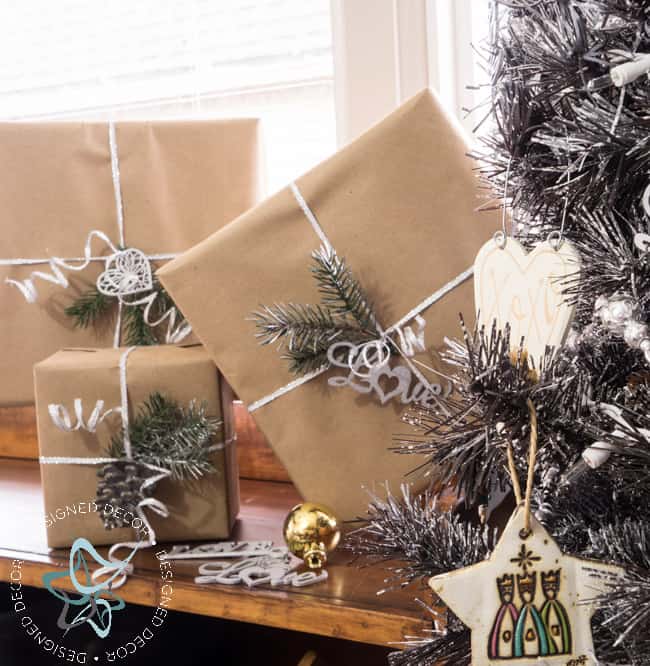 Please make sure you click over to visit Treetopia's blog and read about the other ladies' Christmas traditions that inspired their tree theme.
Please leave me a comment and share what your holiday traditions are.  

Join the DD Community!
Join the Designed Decor Community and receive weekly free tips on DIY home projects, painted furniture, decorating, and much more.