I make this pasta salad recipe year around. I could have a bowl every week and never get tired of pasta salad.
During the summer, I use fresh garden cherry tomatoes which make it taste so much better. The great thing about this recipe is you can substitute your favorites into the recipe. I love to use the tri-color noodles to give it more color. When I use regular noodles, it looks so plain and boring.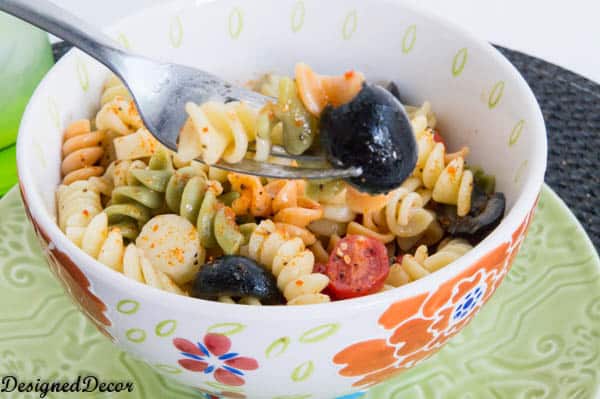 Pasta Salad
Additional Time:
5 minutes
Ingredients
1 12 oz box of tri-color spiral noodles
1 can of black olives, sliced
12 cherry tomatoes, sliced
4 sticks of string cheese, sliced
1 cup Italian dressing
2 tablespoons McCormick Salad Supreme seasoning
Instructions
Cook noodles according to package directions. Drain, rinse and cool.
Add olives, tomatoes, and cheese to noodles, mix together in a large bowl. Pour dressing over top of the salad and sprinkle with seasoning.
 This is one recipe that I don't measure.  I just slice and add things until the color balance looks good.  I make my own Italian dressing using the good season zesty Italian dry pack.    My key ingredients are 1 teaspoon of sugar added to the recipe and use Marukan Rice Vinegar.  This is by far my favorite rice vinegar and it makes all my recipes taste so much better.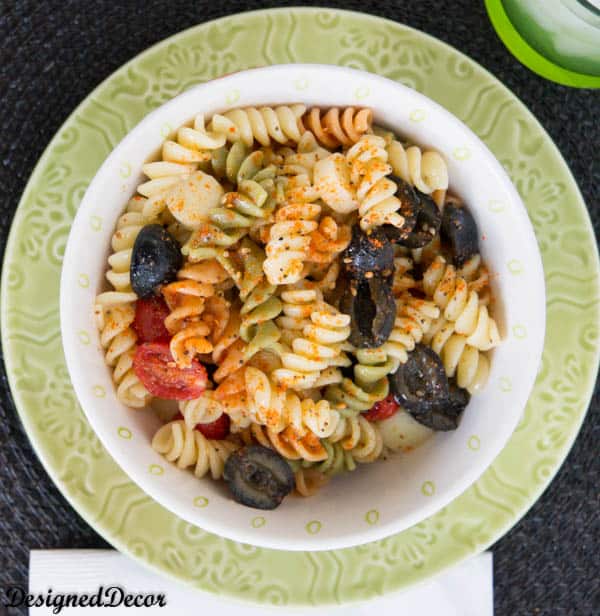 This is one easy pasta salad recipe and what makes it so good is my homemade Italian dressing and the salad supreme seasoning blend.  It gives the pasta salad just enough flavor and seasoning with the Italian dressing flavor.  I don't like pasta salads that are swimming in dressing.  I like just enough for flavor, otherwise, you get that sickening overkill of salad dressing.  Go crazy with the different versions you can make, add in sweet peppers or green olives.  I like to mix in a little bit of balsamic dressing to give a bit of different flavoring to the seasoning.  Give it a try and come back and let me know what you substituted in your version!  

Join the DD Community!
Join the Designed Decor Community and receive weekly free tips on DIY home projects, painted furniture, decorating, and much more.