This Nana's cheesecake recipe was a staple for all of our family gatherings. I cherish the memories of all the family gatherings and Nana bringing her Cheesecake.
I never made this recipe until after Nana passed away. My mom had given me her recipe box, since I am the one in the family who loves to bake.
I found the coveted recipe and decided I would give it a try. The first time I made the recipe, it was not smooth and creamy, it had air bubbles in both layers. I thought oh great, I never will get to ask Nana the secret in how to make her cheesecake. I did some reading online and found out that it is best to have the all the ingredients at room temperature, so this is what I did for the next go around. It worked, it looked and tasted like the cheesecake that Nana had to bring to all of our family functions.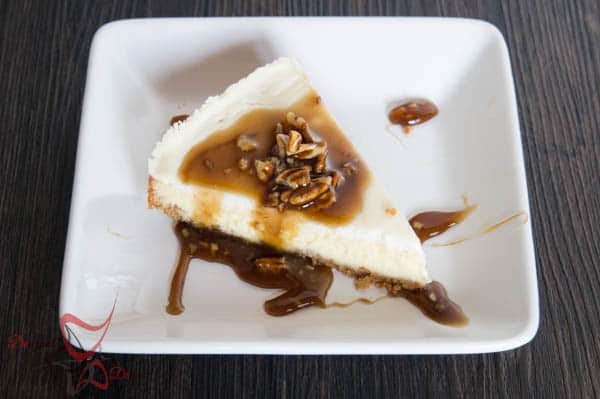 I usually make it in the same pan that she did.  It is an old metal baking tray with a metal slide-off lid.  I asked to have the pan if I were to make the recipe, I needed the pan too.  It sounds crazy, I know, but that pan has a soft spot in my heart.  Since I was sharing the recipe with you, my readers, I decided to make it in a regular spring-loaded cheesecake baking pan.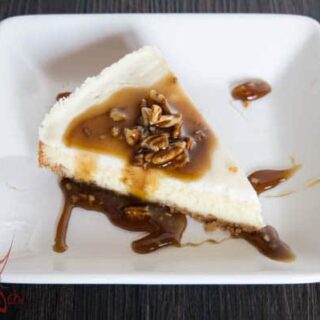 Nana's Cheesecake with Praline Topping!
Cook Time:
1 hour
20 minutes
Additional Time:
20 minutes
Ingredients
Crust
20 graham crackers, crushed
5 Tablespoons butter, melted
2 Tablespoons sugar
Middle layer
3 8 oz. packages cream cheese, softened and room temperature
4 eggs, room temperature
1 cup sugar
1/2 teaspoon vanilla
Top layer
3 cups sour cream, room temperature
1/2 cup sugar
1 teaspoon vanilla
Instructions
Preheat oven to 300 degrees.
Mix together crushed graham crackers, butter, and sugar.
Pat on the bottom of the 9x13 baking pan.
Blend the cream cheese and eggs until mixed thoroughly using a hand or stand mixer.
Add 4 eggs one at a time until all are blended well.
Mix in 1 cup sugar and 1/2 teaspoon of vanilla.
Pour over crust
Bake 1 hour.
Remove from oven and set the oven to 350 degrees.
Blend sour cream, sugar, and vanilla until mix thoroughly with a hand or stand mixer.
Pour over the middle layer while still hot.
Bake 5 to 10 minutes at 350 degrees.
Cool completely.
Store in refrigerator
Nana's cheesecake is delicious enough to serve on its own.  We always ate it with no topping.  I found a great recipe for praline topping and made this to serve on the side for my guests when I made Nan's cheesecake for my small group.  This Nana's cheesecake recipe was a staple for praline topping was a huge hit along with the cheesecake.  The praline recipe was from the Food Network and it was a recipe from Paula Deen so you know it had was good.  Here is the link for the Praline topping, you can head over there to get the recipe.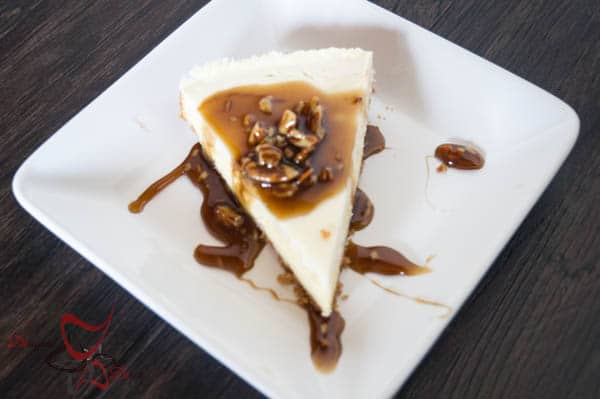 I love all types of cheesecake. I usually will not order a plain cheesecake in a restaurant because I find that they all lack in comparison to my Nana's Cheesecake recipe. What is your favorite type of cheesecake?

Join the DD Community!
Join the Designed Decor Community and receive weekly free tips on DIY home projects, painted furniture, decorating, and much more.