Cream Cheese and Pumpkin, these are some of my favorite flavors, what more could you need for a dessert? These cream cheese pumpkin bars are a great mild dessert to share with friends and family. They also are great paired with coffee and tea.
I found this recipe from Julie's Eat and Treats.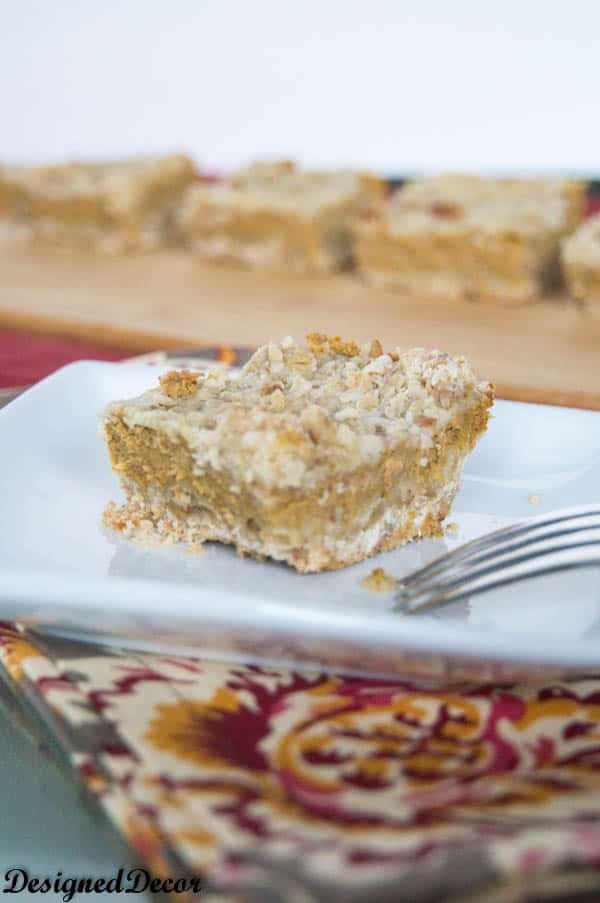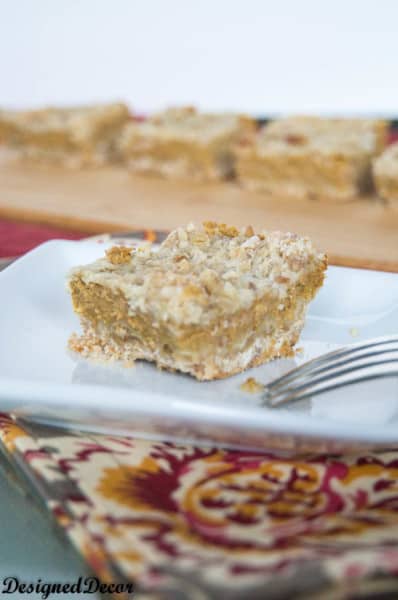 Cream Cheese Pumpkin Bars!
Author:
Prep time:
Cook time:
Total time:
Ingredients
1 1/3 c. all-purpose flour
3/4 c. sugar, divided
1/2 c. packed brown sugar
3/4 c. cold butter, cubed
1 c. old-fashioned oats
1/2 c. chopped pecans
1 package (8 ounces) cream cheese, softened, cubed
2 tsp ground cinnamon
1 tsp ground allspice
1 tsp ground cardamom
1 can (15 ounces) solid-pack pumpkin
1 tsp vanilla extract
3 eggs, lightly beaten
Instructions
Preheat oven to 350°. Grease a 13×9 in. baking pan.
Mix flour, 1/4 c. sugar and brown sugar in a small mixing bowl. Cut in butter until crumbly. Stir in oats and pecans. Set aside 1 c. of mix for topping.
In the bottom of the prepared pan press the remaining crumb mixture. Bake 15 minutes.
Beat cream cheese, spices and remaining sugar in small bowl until smooth. Beat in pumpkin and vanilla. Add eggs; beat on low speed until just blended. Pour over warm crust; sprinkle with reserved crumb mixture.
Bake 20-25 minutes or until a knife inserted near the center comes out clean and filling is set. Cool on a wire rack. Cut into bars. Serve or refrigerate. Store in refrigerator.
I made a slight substitution to this recipe since I did not have cardamom in my cupboard. I used 1/2 teaspoon of nutmeg and 1/2 teaspoon of cinnamon to replace the 1 teaspoon of cardamom.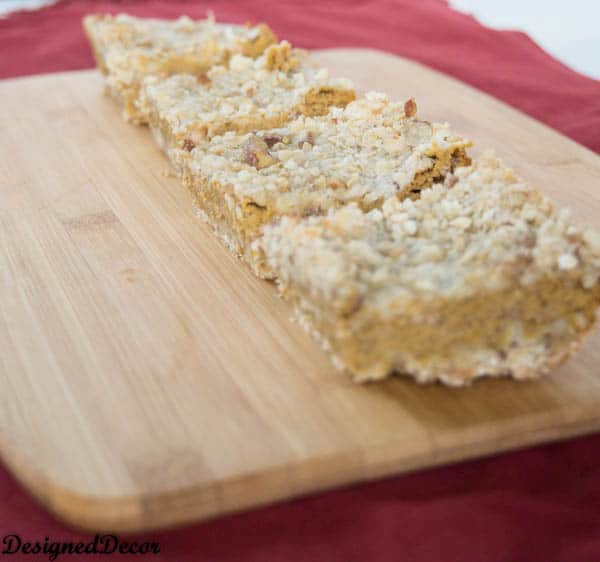 What is your favorite bar dessert?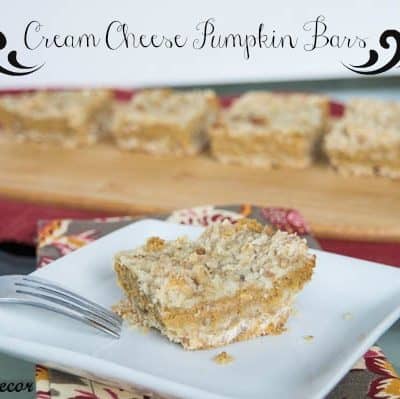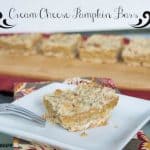 Join the DD Community!
Join the Designed Decor Community and receive weekly free tips on DIY home projects, painted furniture, decorating, and much more.