Hello to all you Designed Decor readers out there! I'm excited to be here today with a yummy recipe for you! First off, I'll tell you a little about myself, I'm Megan and I blog over at Crafty Meggy. I enjoy sewing, scrapbooking and crafting in my spare time, which doesn't happen a lot! LOL I'm a mom to 3 crazy but lovable boys and have a wonderful husband I've been married to for 10 and a half years. I love blogging about all my crafting adventures and hope you'll come over and check them out! 🙂
I am going to share a recipe that is near and dear to my heart, scones.
My grandma passed away last year in May and it was really hard. She was such a wonderful grandma and showed everyone so much love! She was also an amazing cook! She made the best bread and scones ever! 🙂 I remember growing up and eating scones she would make and have always cherished her memories.
I got the recipe from my sister, who said that Grandma would usually make 2 loaves of bread and then make scones out of what was left over.
Here's her recipe:
Grandma Doty's Homemade Bread/Scones 1. Boil 2 cups skim milk & 2 Tbsp. Crisco. Stir continuously 2. Put 2 Tbsp salt in large bowl, add boiling water 3. Add 2 cups cold water *Activate yeast during boiling
– 2 Tbsp yeast (heaping)
– 1/2 cup warm water
– 2 Tbsp sugar
4. Add yeast mixture to warm milk mixture 5. Mix in 6-10 cups flour 6. knead 25-50 times 7. Let rise 1-2 hours Knead 25-50 times 9. Rise double in pans
Bake @ 350 for 30-35 min.
Makes 3-5 loaves
I actually wasn't patient enough to wait for my sister to email me the recipe, so I found a different one and my husband made it while I was at church on Sunday. When I got home I went through the process of rolling out the dough and making the scones. Here's a step by step of what to do:
The dough before it rose.
It had doubled after about 2 hours.
I rolled it out,
I used a pizza cutter to cut the dough. I usually use a knife, but I got
this idea from the Pioneer Woman.
I got out a plate and put on some paper towels to soak up the oil after
the scones were cooked.
Turn the oil on medium heat and let it heat up for about 5-10 minutes.
Once it's about to boil, stick one scone in the oil.
Let it sit for about 30 seconds.
Then flip it over with tongs.
I usually cook 3 in a pan at a time so I don't get too overwhelmed.
This is what they look like when they're cooked. Pull them out of the
oil and Enjoy! 🙂
My 3-year-old loves to eat scones with me!
We eat them with honey. YUM!
I'm thankful for a grandma who introduced me to this food and that I
grew up on it. I hope you'll enjoy it as much as I do!
Thanks for having me DeDe!
Thanks Megan, these sound and look so yummy! Thanks for sharing this great recipe with me and my readers. Please stop over to say "Hello" to Megan and give her some comment love! Crafty Meggy!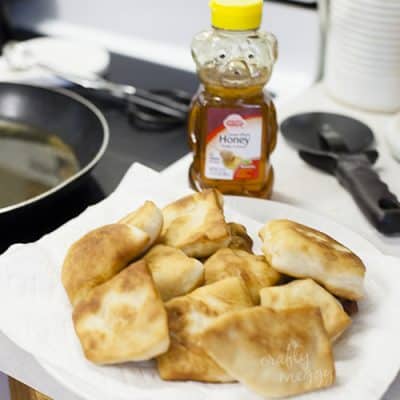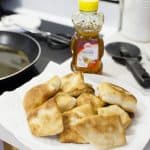 Join the DD Community!
Join the Designed Decor Community and receive weekly free tips on DIY home projects, painted furniture, decorating, and much more.