[go_portfolio id="essentialoils"]
Why Essential Oils?
Over the years I have slowly been striving to eliminate chemicals and medications from my life and my familys. We are a very healthly family but needed to make a few more adjustments in our everyday habits. I started hearing great things about essential oils and decided this would be a great route to finally give my family the push they needed not to have to rely on medications in the rare event when we did get sick. I began to do the research on essential oils and how they could benefit us.
Why dōTERRA Essentail oils?
After reading and researching about many of the top brands, I knew that dōTERRA was the safest and most effective brand for me and my family. dōTERRA is the only brand to be CPTG Certified. CPTG essential oils represent the safest and most beneficial oils available in the world today. For an oil to be CPTG Certified Pure Therapeutic Grade the oil must be:
Pure and natural, with aromatic compounds carefully extracted from plants
Free from fillers or artificial ingredients; no dilution of active qualities
Free of contaminants, pesticides, or chemical residues
Rigorously tested for standards of chemical composition
Cross tested using mass spectrometry and gas chromatography to ensure exact purity and composition potency
Sourced by a global network of leading essential oil chemists and growers to ensure correct species, growth in ideal environments, and that raw plant materials were carefully harvested at the right time

How do I get started?
I recommend starting with a wholesale membership, even if you are brand-new to the idea of essential oils.
As a wholesale member (Wellness Advocate), you'll enjoy:
Wholesale pricing on everything you order (that's a savings of 25% on everything you buy)
The ability to start off with a special enrollment kit
No minimums, quotas, or obligations
The chance to take advantage of the Loyalty Rewards Program, which can give you a total of up to 55% off retail pricing.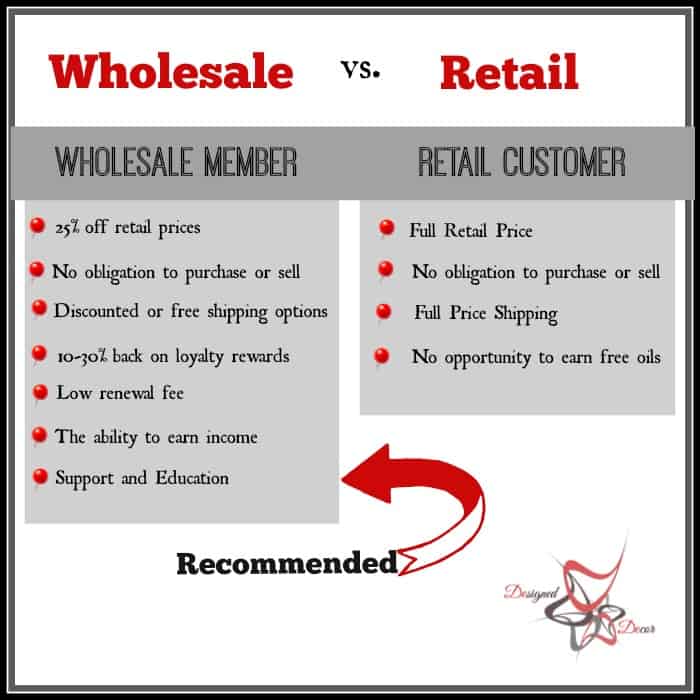 How do I order retail or get a wholesale kit?
Join the DD Community!
Join the Designed Decor Community and receive weekly free tips on DIY home projects, painted furniture, decorating, and much more.